Latest news
Disability and Rehabilitation Research Project on Customized Employment -Discovery is the foundation of customized employment (CE), and is one of the elements that differentiates CE from other employment interventions. The purpose is to learn about the individual's strengths, interests and work preferences. Discovery is capacity-based, not deficit-based. Instead of conducting formal assessments, employment specialists spend time with job seekers in familiar and unfamiliar settings.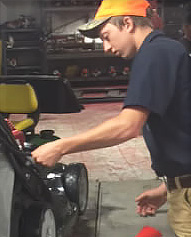 Disability and Rehabilitation Research Project on Customized Employment Customized Employment Case Study - The first step in delivering customized employment services is conducting Discovery to build rapport with and to get to know the job seeker. The focus is on the person's strengths and interests as well as work preferences. Traditional assessments are replaced with qualitative interviewing and observations in the community. Job seekers are assisted in refining and identifying their interests for employment, and a position is negotiated that meets the person's needs as well as a business need. Of critical importance is negotiating positions specific to job seekers' interests and not trying to "fit" individuals into positions that are available. Trying to "fit" individuals with disabilities into existing positions has often excluded them from achieving integrated competitive employment outcomes. This case study provides details on how one young man was assisted in finding his customized position.
Defining customized employment as an evidence-based practice: The results of a focus group study - Customized employment has generated support at the national, state, and individual participant levels to expand employment for people with significant disabilities. The next step is movement from practitioner-based descriptions to evidenced-based practices that can be consistently replicated. The objective of this qualitative research study was to begin the development of a research-based description that agencies can use to replicate customized employment when supporting individuals with significant disabilities.
Featured
---
Overview of Customized Employment Online Course -March 4 - 29, 2019 Customized employment is a process for individualizing the employment relationship between a job seeker and an employer in ways that meet the needs of both. It is based on a match between the unique strengths, needs, and interests of the job candidate with a disability, and the identified business needs of the employer or the self-employment business chosen by the candidate.